I'm very pleased to announce that Anvil of God is now available as an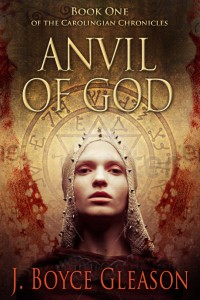 audiobook!  If you sign up for Audible (for the first time), you can even get
it for free.
After reviewing the 30,000 or so books in their portfolio, iUniverse selected two for their maiden voyage into the audiobook market.
Anvil of God is one of them.
They contracted with Deyan Audio to do the 16 hour and 48 minute recording.   After searching through dozens of potential narrators, we chose Michelle Carmen Gomez to bring the story to life.
Check it out here: https://www.amazon.com/Anvil-God-Book-Carolingian-Chronicles-ebook/dp/B076MDKXWG/ref=sr_1_1?crid=U170DPKVIL56&keywords=anvil+of+god&qid=1563727924&s=gateway&sprefix=Anvil+of+god%2Caps%2C159&sr=8-1&fbclid=IwAR3diD8kOXkiKv5A7s7zrnGvnRs0CrH97P8qMvvuLRu5OCtTcUDdcqPMejM