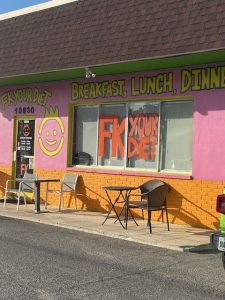 For some reason, I stopped at the ATM machine on my way out of the hotel.  I didn't really need the cash but something inside me made feel it was necessary.  I was in Fort Meyers for guys weekend, playing golf, and our host for the trip told us to meet at a breakfast place before our first tee time.
When we pulled up at the address, however, I was a little skeptical. It was adjacent to a massage parlor and looked a little, well…off.  Garish paint colors of orange, bright blue, bold yellow and pink covered the place outside and in, and child-like letters boldly proclaimed its name.
FK Your Diet.
The twelve of us walked in, sat down, and were greeted by a middle-aged man in an apron and a tee-shirt stained with food. He had a broad smile and a devilish glint to his eyes.
"I could be part of this group." He ribbed us, handing out menus, "if I had a collared shirt."
His name was Doug Miller and he is the owner of the establishment.  His restaurant's theme is "Eat to Give" and "FK" stands for "Foster Kids."  Having grown up in a series of foster homes throughout his childhood, Doug along with his girlfriend Amy Eldridge decided to give back to the foster care community after he retired from a career in sales.
They created FK Your Diet as a vehicle for funneling money into services devoted to Foster Kids.  For years, there were no prices on his menus because many of his customers had no money and he refused to let anyone leave his place hungry.  He asked customers to pay what they could, relying on the better angels of their nature to keep his place in business and to send money to his charities.
When Hurricane Ian hit the Fort Meyers community like a sledgehammer, thousands were left homeless.  He and his merry band of waiters and volunteers served 300,000 hot meals to those impacted by the storm.  They brought in a thousand trucks filled with household goods and appliances for those who lost everything. And they continue to help the needy at Fort Meyers Beach by providing free breakfast and lunch meals from Monday to Friday.
And then there are the foster kids.  In addition to a place where they can always count on a hot meal, he donates a large portion of his proceeds to the agencies that provide for the foster care community.  He throws Thanksgiving dinners, graduation celebrations for Foster Kids and works with the local high school, holding regular lunches with teachers and at-risk kids to improve connections between the two.
The icing on this cinnamon roll is that the food is amazing. Served by cheerful waiters who call everyone and each other "boss" the food is over-the-top good.  The menu is based on the meals Doug prized most from his youthful tour through foster homes.  The breakfast burrito is the size of a football and his turkey gravy is to die for.  I had a "breakfast sammie" and it was about twice the amount of food I could eat.
The twelve of us left his restaurant for the golf course, deeply moved by how much one person's passion could affect his community. It was, to be honest, a very humbling experience.
But, at least, I understood why I had stopped at the hotel ATM for cash.
To give, please head to their website: FKyourdiet.com