In Briarcliff, there is a community park right in the center of the town. In the old days it was adjacent to the high school and its playing fields. It had a pool, tennis courts, a pond, a library, lots of green grass – just about everything a kid could need during the summer months when school was out.
When I was ten, it was all about the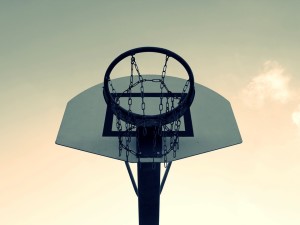 pool. But as I grew older, I found my true love…basketball. One of the tennis courts at the park was made of cement and doubled as a hoops court. I spent most of my summer afternoons there after work wearing out my high, white, Converse All Stars in a never-ending game of five on five, "skins" versus "shirts."
There were no refs. None were needed, as calling "foul" was considered unmanly. We rarely kept score, weaving up and down the court with moves we'd copied from Walt "Clyde" Frasier or Earl "the Pearl" Monroe. The real trick was to do Elgin Baylor's last-minute kick to keep you hanging during a jump shot.
It was hot, sweaty, grueling work rewarded only by the crisp ka-chunk of the metal net when we scored. Players came and players went but the game never stopped. When the soles of our Cons cracked, we'd wrap them in athletic tape and get back in the game. It was glorious. And I loved it.
Which is why it is so difficult for me to admit to being the worst high school basketball player in Westchester County. This, unfortunately, is no exaggeration. During my senior year, Doc Pruitt's high school basketball team had the worst record among Class C schools (the smallest and therefore lowest ranking schools in the county). And I was the worst player on the team.
Actually, I was one of three worst players. There were thirteen boys on the team. Of those thirteen, five started every week. Another five made up the second string. That left three for the bench. And the bench is where we sat every day – even during practice. The five starters would play the five second stringers for two hours while the three bench-warmers would sit, watch, and wait for wind sprints at the end of the day.
I used to tell myself that I was a victim of training too hard for football, so that when winter came around, I wasn't "basketball ready." If only coach Pruitt would give me the chance to get my basketball legs, I'd be fine. But, the truth is, I wasn't very good. By the time I was a senior, my body wasn't built for basketball, it was built for knocking people down. And for the most part, when I got on the court, that's what I did.
Being one of the three benchwarmers was embarrassing. Every Tuesday and Friday nights, we'd parade into the gym in front of the whole school in those short shorts and sleeveless tank-top shirts (a humiliating experience for those of us with acne) and then sit at the far end of the bench so that Coach Pruitt would have faster access to the first and second squads. The three of us never got to play. It didn't matter if we were losing by thirty points. (Notice I didn't say up by thirty points? We were never up by thirty points). Even then, we were expected to "keep our heads in the game" and cheer for our starters.
I hated it.
As the weeks went by and my situation did not improve, I grew angry. How could I improve if I didn't play during practice? One day after watching yet another two hours go by, I'd had enough.
"I'm quitting," I told the coach.
"I thought Gleasons didn't quit." This was a reference to my two older brothers; Doc was telling me that I was shaming my family's reputation.
"Coach, I'm not even playing in practice."
"Fine. You're off the team." And that was that.
Except that it wasn't. I started watching from the stands. Having played a sport every season since I could remember, I wasn't used to spectating. I liked it even less than watching from the bench.
And then a funny thing happened at a Friday night game. One of the other two benchwarmers, a boy named Wade, decided he too had had enough. Instead of sitting next to the team, head in the game, and cheering on his fellow players, Wade sat several places to the right – apart from the team.
In addition to the angry looks he got from Doc Pruitt, the move caused murmurs from the stands. What was he doing? Didn't he want to play?
The next game, he again sat apart, but this time he brought a newspaper and started reading the comics. The whole auditorium spent more time watching him than the team. The next game, Wade wore sunglasses and wrapped his legs in a beach towel.
The crowd fell in love with him. When we got behind, they chanted, "WADE!" "WADE!" "WADE!" After two or three games of this, Coach Pruitt caved to the pressure and put him in the game.
It brought down the house. The entire student body stood and stomped their approval on the new gym's wooden bleachers. By season's end, Wade started playing more than some of the second stringers. From my lonesome spot in the stands, all I could do was shake my head with envy. Wade had found a way into the game while I had taken myself out of it.
It took me a long while to understand what had happened and a few more failures to learn the truth: Humor can be more powerful than anger and a clever protest more effective than a principled stand.
Wade, next time we meet, the beer is on me.