I have a weakness for World War I novels and an even bigger weakness for Kate Mosse, a British author known for her best-selling novels Labyrinth and Sepulchre. So, I'm happy to review her latest novel, The Winter Ghosts.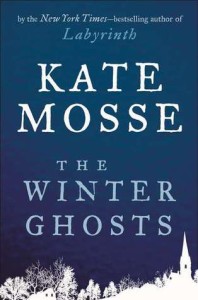 Here's the publisher's blurb:
World War I robbed England and France of an entire generation of friends, lovers and futures. In Freddie Watson's case, the battlefields took his beloved brother and, at times, his peace of mind. In the winter of 1928, still seeking some kind of resolution, Freddie is travelling through the beautiful but forbidding French Pyrenees. During a snowstorm, his car spins off the mountain road. Freezing and dazed, he stumbles through the woods, emerging in a tiny village, where he finds an inn to wait out the blizzard. There he meets Fabrissa, a lovely young woman also mourning a lost generation. Over the course of one night, Fabrissa and Freddie share their stories. By the time dawn breaks, Freddie will have unearthed a tragic mystery that goes back through the centuries, and discovered his own role in the life of this old remote town. By turns thrilling, poignant, and haunting, this is a story of two lives touched by war and transformed by courage.
My take:
Kate Mosse has long held a fascination with modern-day characters whose lives connect through time to the desperate history of the Cathars in the Languedoc region of France. The Winter Ghosts explores this theme again by following a young man who is so haunted by the memory of his brother's death in World War I that he hovers on the edge of sanity and sees his life wavering between the land of the living and of the dead. Driving through the Pyrenees, he is forced to wait out a storm in a little village on the slopes of a mountain that is steeped in its own tragedy and grief. At an annual festival he becomes infatuated with a mysterious woman and is swept into the blood-soaked history of the town's inhabitants.
I love Mosse's writing. Her ability to paint her readers into the ancient and foreboding landscapes of the Pyrenees prepares them for a connection to the stories and people of another time. Haunting would be a good term to describe her work.
My only qualm with this novel is that Mosse lets us see too much of what's coming. Structured, as it is, as a tale told to a collector of artifacts, too much is given away too soon and I felt like I knew the ending far before its resolution. (Although, perhaps this is because I have read two other books by Mosse and am now better able to pick up on the clues she weaves into her storylines).
That said; The Winter Ghosts is worth the read. Strong writing, powerful landscapes and compelling characters make this step into Mosse's mystical connection to Languedoc a delightful, if haunting journey.