I exchanged books with Rick Spier last week and received a copy of his "novel memoir" The Legend of Shane the Piper and his second book O'Sullivan's Odyssey.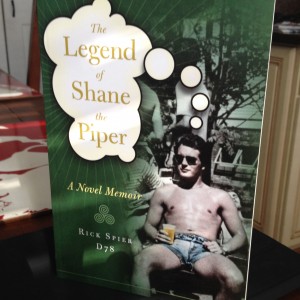 I sat down with Legend and found I couldn't put it down.  That's not to say it is an easy read.  It's not.  It's a tough story that chronicles Rick's abandonment by his parents, his life with abusive foster parents, and his subsequent abuse of alcohol at Dartmouth College.
I think it was doubly hard for me as I knew Rick in college – but didn't know of the anguish and pain he suffered at the hands of all three.
Forced into acting as a surrogate for a violent foster father, Rick performs well as an athlete in high school, even though he has no real love for sports.  His athleticism helps him attract the attention of the Dartmouth football program and Rick finds himself in college and "free" to define himself for the first time.   He walks off the football field and into the arms of Dartmouth's Animal House culture of the late 1970's where drinking was glorified and students were often bullied into chugging one beer after another until they were drunk.  Not a great environment for someone struggling to find himself.  Rick embraces the culture, but is never sure that the culture embraces him.  Although he finds a way to maintain his grades and graduate, his demons are never far from him and he carries his alcoholism well into adulthood.
This too, is no easy ride.  His foster father murders his foster mother and commits suicide, his wife nearly dies of an ectopic pregnancy, and his older daughter was diagnosed with Rett Syndrome.  "In sum," Rick writes, "it was another donkey-ride-through-Hell that destroyed my marriage and family and left me pretty much destroyed as a human being." Like I said, it's a tough read.
Legend seems to be Rick's way of exorcising his many demons so that he can now live his life the way he chooses – sober and as a writer.  Using his Dartmouth experience as a backdrop, he ping pongs his way across the years vomiting his abused life on the table for all to see – chunks and all.  Dartmouth suffers greatly in this role, playing the single-minded, and shallow role of a fraternity haven.  It is much more than that, but Rick either chooses to not tell that part of the story or never saw it through the haze of the abuse he suffered.  That he loves the school is evident; the why, however, is not.
In some ways, I felt the memoir was meant for me to read.  It clearly is a confession of sorts – it screams, this is who I really am! – and its focus on our alma mater is so specific to time and place that it feels like a shared memory.  He even bookends the story with visits to his 25th and 30th reunions.
I, for one, am happy and relieved that through hard work and the help of his second wife, he is at last sober and finding happiness.  Rick is a compelling writer and I look forward to reading O'Sullivan's Odyssey.