Great news! Anvil of God has been selected as a historical fiction finalist in Foreword Reviews "Book of the Year Awards"
Check out the link: https://botya.forewordreviews.com/finalists/2013/historical/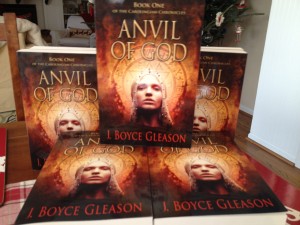 From the news release by ForeWord Reviews:
"ForeWord Reviews the only review magazine solely dedicated to discovering new indie books" announced the finalists for its 16th Annual Book of the Year Awards. Each year, Foreword shines a light on a small group of indie authors and publishers whose groundbreaking work stands out from the crowd. Foreword's awards are more than just a shiny sticker on the front of a book; they help connect the best indie books to readers eagerto discover new stories written by previously unknown authors.
"In the next two months, a panel of over 100 librarians and booksellers will determine the winners of these prestigious awards. A celebration of the winners will take place during the American Library Association Annual Conference in Las Vegas on Friday, June 27 at 6 p.m. with awards in over 60 categories, cash prizes for the best in fiction and nonfiction, and widespread recognition."
ForeWord Reviews covers the rapidly growing independent, alternative, university, and self publishing industries. Its magazine is distributed quarterly to 7500 librarians and booksellers and is also available at most Barnes & Noble newsstands and by subscription.