Rooted and ringed,
I face the wind
With gnarled limbs and knots
Aching.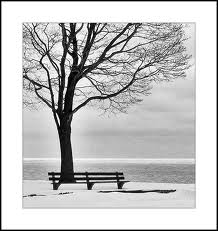 The white of winter comes
Leaden with demise and
Beauty so cruel it is
Careless.
Such an odd thing
The inability to move
When all around me
Beckons.
To begin again, to believe again
In the sun and distant spring.
A useless dream,
And yet…
It rises in me
Hot against the air so cold
Stretching for the sun's
Embrace.
Autumn Song by J. Boyce Gleason