With the release of Denis Villeneuve's new movie Dune, I'm thrown back to a time when I met the novel's author, Frank Herbert. Once named the best-selling fiction novel in the world, Dune won both the Nebula and Hugo awards for science fiction and placed Herbert among the pantheon of science fiction authors like Asimov, Heinlein and Tolkien.
I was then a young upwardly mobile professional and there still existed a Borders Bookstore chain. I used to spend my lunch hour there combing through new releases and haunting the Middle Ages history aisle.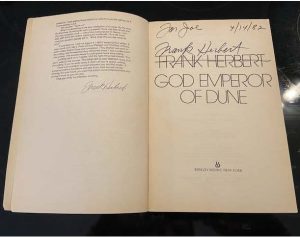 One day I noticed a display in the window of God Emperor of Dune. As a devoted (and huge) fan of the Dune trilogy, the book was a surprise to me. Herbert had already completed his trilogy with Children of Dune and Dune Messiah. No one expected a fourth book.
I hurried inside and found the book, (oddly in paperback) and scooped up a copy. It was then that I saw, sitting by himself at a card table in the corner, an elderly man with a white beard.
"You're Frank Herbert," I said.
"I am."
I froze, unsure of what to do next. As the sweat beaded on my forehead, I grabbed one of the copies and held it out to him.
"I believe you are supposed to buy it first," he replied. Embarrassed, I took it back, ran to the front desk and paid for the copy.
When I returned, he smiled and asked who it should be dedicated to. I hadn't considered that. I blurted out, "me" wondering if that was appropriate. I'd never been to a book signing. Was there a protocol to these things? Would it be better to suggest someone else?
There was no one around. We had the bookstore largely to ourselves and I wish I had had the nerve to strike up a conversation and ask him the hundreds of questions I have thought up since then. But, in my tongue-tied youth, all I could come up with at the time was a feeble, "thanks" and that was it. I've regretted the lost opportunity – and cherished the memory – ever since.