I've been learning to tweet.  Which is a very bizarre phenomenon.  It's like stepping into a scene from The Bald Soprano by French playwright Eugene Ionesco.  In the Bald Soprano, everyone talks – but no one listens.  "It's not that way!  It's over here!"
This is particularly true if your followers and followees (?) are writers, bloggers and the media.  Everyone is hyping their own work, a small few are entertaining, but is anyone really listening?  Hard to tell.
Maybe it's just me.  Maybe I don't have enough "followers" yet.  Maybe I just don't quite get it yet.  For my part, I've been trying a mix of promoting Anvil (whenever I get a good review or hit a new milestone) and being "entertaining." (Mostly to amuse myself, since I'm not sure anyone is listening).
At least I hope I'm entertaining.  My first attempt relates to a blog post I wrote earlier called, "What do we tell the children?" about how awkward it was for me when friends and neighbors read the sex scenes from my novel – which I'll admit are pretty graphic – It was even more awkward with people are related to me.
That led me to wonder what it would have been like to be the relative of a literary great, back in the day.  It must have been doubly difficult.  (For those of a certain age, think Billy Carter, Jimmy Carter's brother).
What if they could communicate today?  What if they could tweet?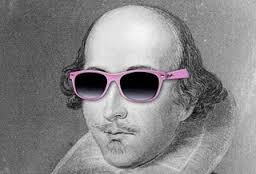 #IfRelativesOfLiteraryGreatsCouldTweet
"That, 'to be or not to be' line?  Yeah, that was mine." – Bobby Shakespeare
"'Plain English!' I told him.  'No one will understand you.'" – Bobby Shakespeare
"Yeah, Bacon did write a few of them." – Bobby Shakespeare
 "Midsummer's Night Dream?  Now, that is some strange shit." – Bobby Shakespeare
 "He starts using iambic pentameter, and I say, 'now you're just showing off." – Bobby Shakespeare
"I'll give it to him on diversity. Othello was way ahead of its time." – Bobby Shakespeare
"I wish he had told me that all the female parts were played by men." – Bobby Shakespeare
Next:  Nabokov's son Nick