Having finished drafting the third book in my series of historical novels called, "The Carolingian Chronicles," I'm on to editing.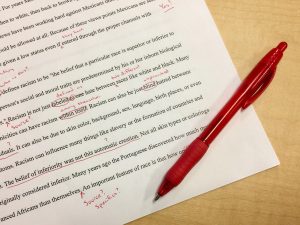 By now, I should be used to it. The bulk of my career has been spent in jobs that required my writing to be reviewed. I was a press secretary on Capitol Hill, a weekly columnist for a daily newspaper and a public relations professional for an international pr firm. Editing was just part of the deal. I've never had a first draft approved without a mark on it.
Creative writing, however, is a little different. It's personal. As much as we writers like to talk about the muse (who is real btw) at the end of the day, it's still us on the page, our thoughts, our words, our vision. We sometimes spend years getting a story down on paper.
That's why editing can be such a challenge. Among writers it's called "killing our babies." Granted, it will make our story/novel/screenplay better, it's just a difficult process to endure.
I'll also admit that corralling 100,000 words into shape can be a herculean task. Word use, syntax, grammar, character consistency, plot pacing and backstory all require attention.
And the period details can kill you. "How long does it take an army on foot to move eighty miles?" "Didn't this minor character die before this timeframe in history?" "Were tomatoes present in Europe in the eighth century?" "Was the Litany of Saints commonly used in France at that time?"
So, it goes. I'll let you know how it turns out. And maybe after it's done, I'll tell you about the muse…